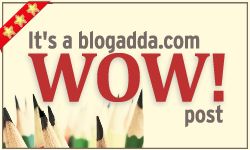 Well it's almost come to the end of the year. It's October now. When I sit down to write on this topic, I can't find a better word than '
Bittersweet
' to describe this month. There is something about October generally. I was reminiscing about events that this month has played out before me over so many years.
October, ever since my school days right up to my college days, has been associated with the occurrence of Mid-Term examinations. After the completion of which I would get a couple of weeks off for Dusshera & Navaratri vacations.
During my college days, the semester holidays would come which would give me nice relief after the grueling two week long semester examinations.October brings out the bitter memories of examinations & the sweet memories of vacations & the celebrations that follow it.
Usually, in Tamil Households the Dusshera or Navaratri festival is associated with the house been decorated, cleaned & an elaborate '
Golu
' is set-up very nicely in each house. Visitors are greeted with gleaming dolls, colorful Kolams(Rangoli), lighted lamps , and we see women & children dressed up in traditional attire singing Shlokas & Bhajans.
As per tradition, all the family members participate in assembling the dolls which contains a mix of gods, goddesses, stories of folklore, stories which have epic importance & some innovative themes which varies from one house to another.
As far as my memory goes , I would occasionally help my mother with the preparation of the '
Golu'
, whenever we kept the
'Golu
' which apparently we have'not prepared that often compared to other house-holds. But the vivid memory I have when any person keeps Golu in their house , is that it was a social occasion more than a festival as we got to meet many people from our society or locality.
Coming to this year's October for me so far, well it's definitely been '
Bitter Sweet'
. A couple of years back , I embarked on my professional career & in two weeks time, I will be leaving the company which gave me my first break. A place where I have made many very close friends who despite the fact that in few days time I wont be working with & mingling on a daily basis will remain connected in the years to come.
I have learnt a lot in my first new job & it is here that I recognized the creative drive within me which lead me to me getting my new job where I hope to go to higher in the corporate ladder & hopefully it will test me positively & help me fulfill my creative aspirations to a large extent.
Personally, in the last couple of days being a huge Movie & Cricket Buff, I am looking forward to the ODI Series between India & South-Africa which succeeds India's meek series defeat at the hands of the Proteas in the T20 series, a result which didn't surprise me that much to be frank as MS Dhoni has gone out of ideas, thoughts, strategies & his finishing skills which has been lauded by his die-hard fans & for that matter Indian Cricket fans over the last 7-8 years has finished literally!!
And having seen Vijay's fantasy film '
Puli
' which went from bad to worse as I endured almost three hours of torture , to seeing a well directed & executed investigative thriller "Talvar" which was based on the killings of Aarushi Talvar & Hemraj in Noida which took place in 2008.
Looking ahead, I would want to see how well Aishwariya Rai has comeback through '
Jazbaa'
after a hiatus of 5 years where she became a mother. Having liked the work of the film's director Sanjay Gupta whose films "
Musafir
" & "
Kaante
" are a must see for sure. And also, in Tamil films, Vikram's next movie after his tremendous mistake '
I
" ,
10 Endrathukula
directed by Vijay Milton releases on October 21st in the Dussehera weekend , whose trailer gave me the impression that the film looks to be like a action- thriller.
Well, hope through this you readers could experience the
Bitter
& the
Sweet
experiences I have had in my life personally & professionally , & I hope for all of you, this October & Octobers in general would have been filled with more
Sweet
rather than
Bitter
memories & experiences!!
This post is a part of
Write Over the Weekend,
an iniative for Indian Bloggers by
Blogadda.