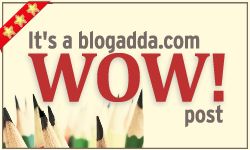 As I get down to writing about this topic, a whole lot of ideas come to my mind. Who wouldn't want to have a Million dollars in their bank accounts? Well, unless you are a saint who has given up all the worldly pleasures I guess it would be everybody's dream to have a Million dollars in their name!!
If I had a Million Dollars, I would save a decent amount of that money for my future, donate a good chunk of that money to charity- more importantly to organisations which are doing good work and deserve the money in my opinion and of course spend the remainder of the money I have.
Having been closely associated with the work '
Jwalamukhi'
( the NGO my mother and her sisters run), I would set aside some amount for them. To propel their growth even more. I would definitely want their good work to transcend boundaries and get the recognition it deserves in a city level than just in and around the area they function in.
A financial boost will allow them to spread their wings even further and also give them the flexibility to tie up with organisations which are well known in Bangalore, so that together they can create a change in the society!
And everybody who knows me well knows how big a fan of Suriya I am. I have followed his movies for over a decade now and what makes me respect him even more than just his movies is the commendable work he does with his family through '
Agaram Foundation
'.
Through this organisation, underprivileged children get all the training needed, be it life-skills training to proper education which will make them stand on their feet when they become big. Agaram Foundation has a fantastic track record of contributing Engineers, Doctors, Lawyers, Para Medics and more to the society.
And what makes me want to contribute to this great endeavor is that the money used to educate and train these kids is completely accounted for so suppose we want to support the education of a child, right from the stage they are admitted to a school/college right up to the stage they graduate at every stage , we donors are kept informed.
With motivational events and speeches been given by the founders Suriya and his father Sivakumar, I would definitely want to contribute to this commendable effort of theirs and also volunteer for their cause too. Who knows I could end up being a part of his team transforming lives and be part of the work he is doing.
You may or not watch his movies, you may not like his movies but his endeavor to transform the society is one where I feel we must give our support to. As he says in the video above,
Padicha thaan hero, illena ellame zero
. Only if everybody has studied up to a point can they support their family and finally give back to the society!!
If given a chance, I will want to visit all the seven wonders of the world( Excluding Taj Mahal), travel the length and breadth of the world exploring different cultures and lifestyles. I want to go on a cruise across the Meditterian Sea, I want to play casino amidst these beautiful surroundings and if possible never come back to the normal life's we lead!!
And finally, I want to watch a conplete Test Match at the Lord's Cricket Ground in London, Melbourne Cricket Ground in Australia and Newlands Stadium in Capetown. All in the VIP lounge of course!! So that I can get a full tour of the grounds and soak in their rich, fantastic and rich heritage.
On top of that list is visiting the Lord's Cricket Ground. The Mecca of Cricket with over 200 years of heritage attached to it , the ground with its iconic media center is somewhere I always wanted to visit. When I went to London with family a decade back, I missed out on the opportunity to see the Lords Cricket ground, but with this much money in my hand I will definitely make sure I watch a complete test match there for sure!!
So folks, given a Milion Dollars, I will save some portion of that money, donate a good chunk of that to society and with the rest I want to fulfill my personal fantasies.,
I am sure you guys also would do a variety of things given that much money at your disposal !! After all what is a life without money and folks we have got Million Dollars to spend here!! Spend it well, spend it wisely!!
This post is a part of Write Over the Weekend, an initiative for Indian Bloggers by BlogAdda.